Friday May 20th, I submitted a Freedom of Information request to Ombudsperson BC requesting the following information.
"I would like data of the past 10 years, (May 2012- May 2022) of how many parents have submitted complaints with the Teacher's Regulation Branch, and how many of those complaints were investigated by an investigator. Please separate the data by year."
Today, May 25th my request was denied. In a letter from the Deputy of Ombudsperson it was explained to me that FIPPA has very limited access to Ombudsperson due to that they are an office of the Legislature and I can only access information they post publicly. They recommended I look at their annual reports.
SO……
I went through all of their authority statistics reports. I can't get any information specific on the Professional Conduct Unit (formerly Teacher's Regulation Branch), only under the Ministry of Education. Based on the information in their authority statistic reports, I have created a graph for easy consumption.
This graph depicts the number of files Ombudsperson opened connected to the Ministry of Education from 2011-March2011. Data for this previous year will be posted on the Ombudsperson website in a month or two.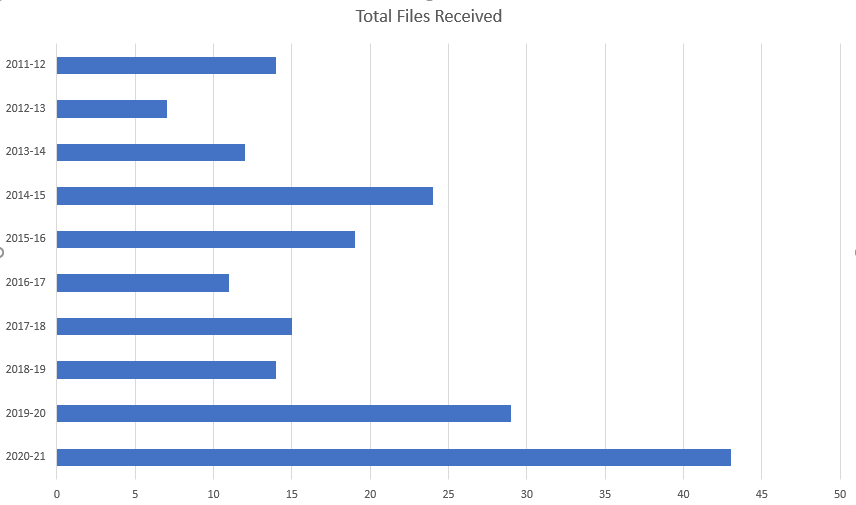 Here is a table version of the same data.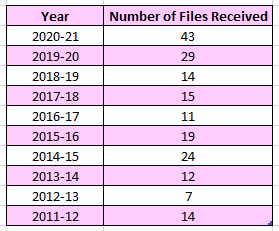 I find their annual reports and authority statistics reports to be very interesting. I highly encourage people who are interested in human systems, data and social justice to take a look.
For each file that was opened, you need to be so frustrated with your situation that you are filing a complaint with Ombudsperson, and be willing to wait months for something to be resolved…or not.
I have recently submitted an FOI request through the Ministry of Education requesting very similar and more detailed information. I will keep you all posted.
Also, keep in mind the the Ministry of Education is not tracking any Human Rights Complaint data. As I have blogged about previously, through another FOI request result.