The decision from the Commissioner if final and binding. There is nothing you can do to change it no matter how wrong you think it may be.
You have two options after you receive the decision letter. You can either apply for a Judicial Review through the BC Supreme Court or file a complaint with Ombudsperson.
For a Judicial Review there are a few things to note. As noted in this document from the BC Supreme Court on Judicial Reviews.
Page 3: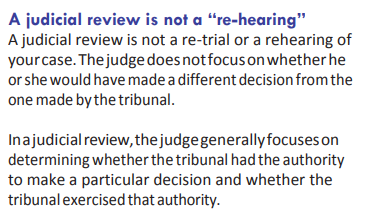 This is a look at whether the Commissioner errored in law and how it was applied. Not about the actual decision.
A Human Rights Lawyer told me that Judicial reviews are very risky as very rarely do the complainants win. The respondents can and will apply for costs to have their legal fees paid for. You as the parent will then need to pay. Legal fees can be tens of thousands of dollars.
I HIGHLY encourage parents/guardians who are considering this route to consult with a lawyer. The $500 you spend on a consultation fee may save you thousands of dollars in the end.
4. Next option is Ombudsperson BC. The chances of them conducting a review are very slim. Please email me if you would like more details or tips or how to get your case at least to an investigator. Ombudsperson will also not look at the decision, but looks at the process. They track every attempt at a complaint, so even it yours doesn't make it to an investigator, your intake form alone is helping. Your arguments to them are going to need to be grounded in administrative fairness.

I have asked the Ombudsperson separate the TRB from the Ministry of Education in their annual data reports, so we can track how many people are filing complaints against the TRB, as they refused to disclose this information in a Freedom of Information request. They seemed receptive to the idea, so I'll be watching their annual report coming out this to year to see if my request was accepted. If not, I'll follow up.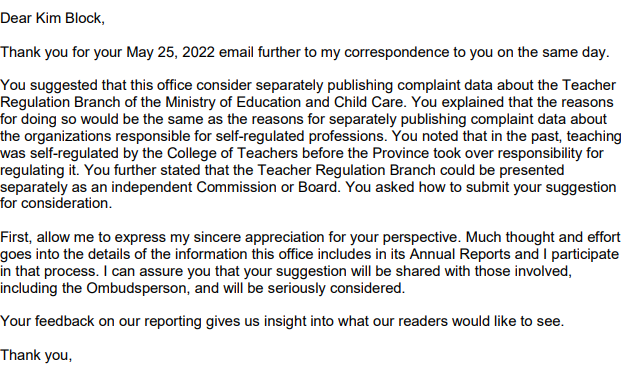 5. Right now, if someone asked me what they could do with decision letters that they know are not right. I would tell them, to please consider filing with Ombudsperson and go through the process, even if the chances of success are slim. We need to let them know that we are not satisfied with the TRB and Ombudsperson determines what needs are out there, based on whether people are filing complaints or not. So, your voice on this does matter.
Please consider providing feedback to the Ministry of Education.
Also, please consider contacting me. There is a wider much larger project that I am working on, and I would love to hear other people's stories.
6. Getting your complaint to a consent resolution is slim. Right now the most recent stats from the Commissioner's office reveals that from April – June, only 7% made it to a consent resolution.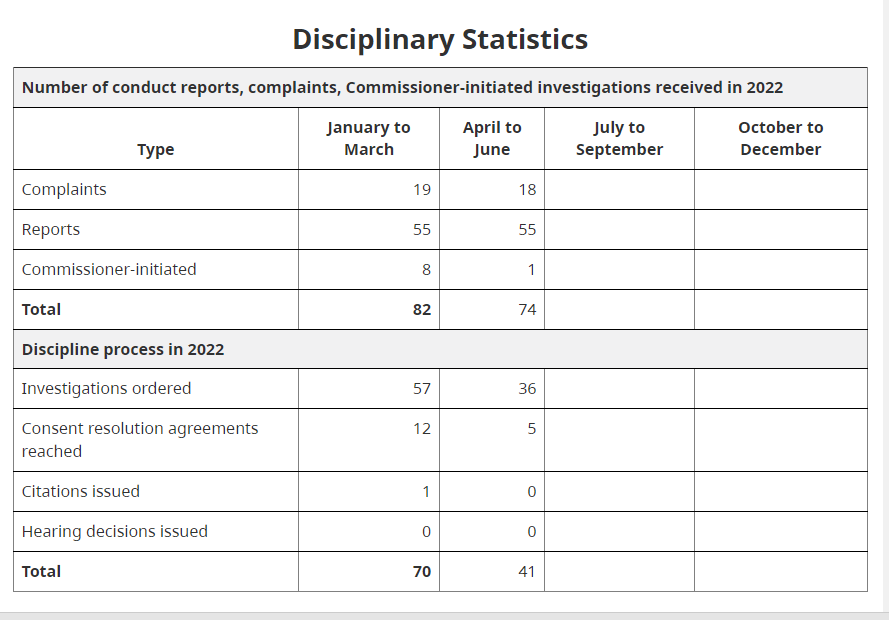 It sounds like a dead end. What's the point? Here it is. When we file complaints they stay on the certificate holder's record. If there is more than one complaint and they build, the chance of success increase. You are basically filing to help out the next parent or the next child. And, who knows…maybe this isn't the first time that someone has filed a complaint and yours will actually be successful.
If we say nothing and don't speak up, it helps no one. It's like it never even happened. Don't get your hopes up. Manage expectations, but file with the TRB, and then file with Ombudsperson. Oh and then call me and blab all about it. I'll make your effort worth it. You'll be part of a larger story. 😉