We have an important consent resolution that has rightfully been making the news.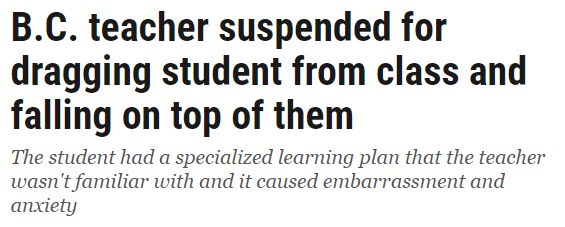 The Professional Conduct Unit (formerly Teachers Regulation Branch) doesn't have a great track record.
In fact, most of the complaints parents file lead to "no action". It has been confusing, disheartening, and a punch in the gut for many that leads us to question the legitimacy of this department in the Ministry of Education and Child Care that should be protecting the most vulnerable.
As shown by the annual reports by the Professional Conduct Unit, you can see for yourself.
You get the idea…puzzling isn't the word…
In the year 2021-2202 out of 242 complaints/reports only 28 led to a consent resolution. If you read through them all, you will get a clear sense of which ones make it through. Most of them are sexual offences or related to physical safety.
There is a lot more going on in schools, unfortunately, that require action in order to keep kids safe from harm beyond just their physical bodies. Based on self-reporting of parents, especially for kids who are disabled, they just aren't making it through, even when the human rights tribunal is accepting the same complaints from the same parents. Here is the discipline database.
Thankfully, most teachers will never experience this process because, well, they are just absolutely fabulous who have a genuine care for children. All of us parents and society will forever been in their debt. Forever and ever.
Other people….chose the wrong career.
Even though the TRB rarely, and I mean rarely, releases a consent resolution connected to a student with a disability, this recent case highlights that the teacher wasn't aware of the students IEP and Safety plan, when they should have been, and states the incident has caused the student anxiety.

I was hoping this story would make the news.
And it did.
Many parents feel that IEP's don't get the respect they deserve. Some teachers follow them to a tee fully embracing them, and others completely ignore them. Ignore an IEP and safety plan and we could end up seeing you in the news one day.
Here is the full consent resolution that is posted on the Ministry of Education and Child Care's website. Parents, you may want to keep this one on your computer. An advocacy tool.
Bellow are news articles on this important consent resolution. I will update them as they are posted in the media.
Vancouver Sun
Surrey-Now Leader
Vernon Now
Info News
BC CTV
Global News