(This page is a work in progress…)
1. Inclusion
http://www.csie.org.uk/inclusion/unesco-salamanca.shtml
2. Loco Parentis
"Traditionally, the teacher was considered to be acting in loco parentis. This means that in relation to the student, the teacher stands in the position of a caring, responsible parent and unofficial guardian."
"All teachers have a legal and a professional liability and are governed by the Canadian Criminal Code and the law of torts or civil law in relation to their duty of care for students. Teachers' professional liability occurs because their profession is governed by the Teaching Profession Act and the Education Act, and their conduct is subject to the Code of Professional Conduct and the general bylaws."
https://www.teachers.ab.ca/News%20Room/Publications/Substitute%20Teachers/Pages/Chapter%204.aspx
https://home.cc.umanitoba.ca/~wallind/chapterfour5.html
http://www.thecharterrules.ca/resources/sitch_and_mccoubrey_students_rights.pdfhttps://open.library.ubc.ca/media/stream/pdf/831/1.0077325/1
3. Education Malpractice
https://core.ac.uk/download/pdf/56369776.pdf
https://specialneeds-ns.blogspot.com/2007/09/tort-of-educational-malpractice-does-it.html?m=1
4. Human Rights Complaints
There are 3 cases that you can use in your advocacy.
A) Moore Case
To view the case on CanLii click HERE
http://www.ccdonline.ca/en/blog/Moore-case
B) Independent School Authority v. Parent
There is a case from the BC Supreme Court that shows that parents can be attached to their child's human rights complaint under family status.

To read the case that is posted on CanLii click HERE
C) Hewko Case

There is also this case HERE
5. Equity in Education – Human Rights
https://sdgs.un.org/goals/goal4
How to Look up Cases on CanLii.org
To find cases by topic start your search at www.Canlii.org
You want to enter your topics into the Document text search field. (Below it is in blue)

Then, the words that you want to find in cases that you think are connected to your concerns you are going to list with " " around those words and separate with the & symbol. For example: "education" & "school district" & "accommodation". That will mean that those exact words will be found in the text documents.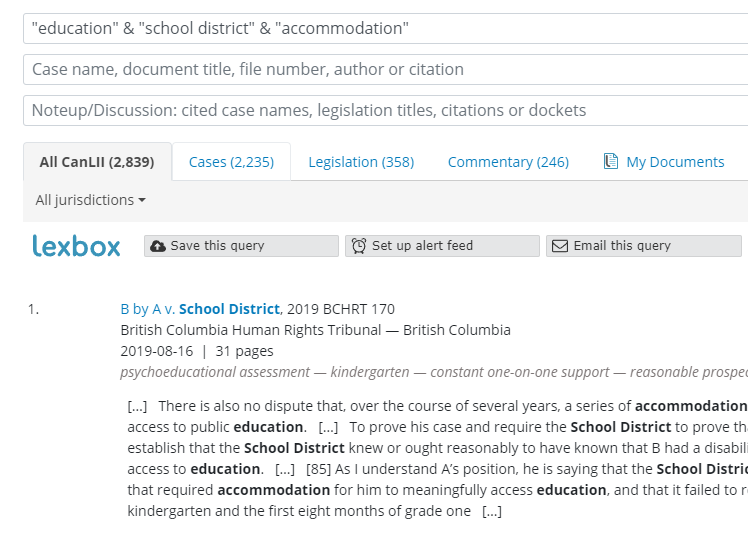 If you want to narrow your search you can click on Jurisdictions and click on the province you live in. You can use human rights cases from other provinces to provide a framework for your advocacy. Courts can use these cases to give guidance on how to resolve your complaint.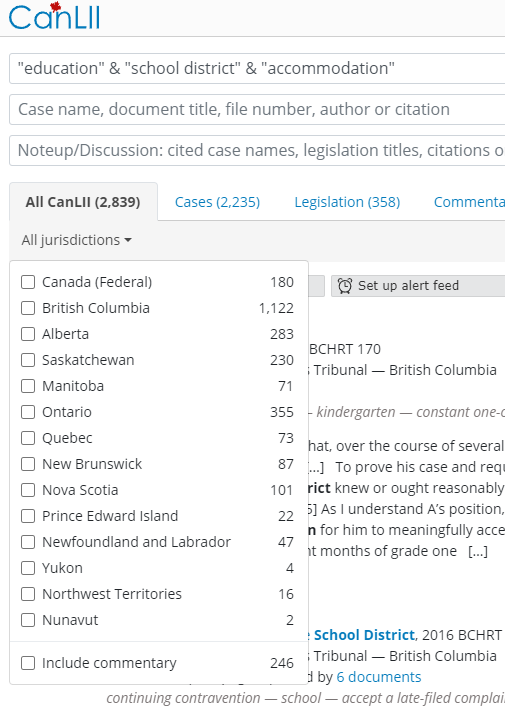 The text documents that will come up in your search will include cases but also other text documents written about the topics you entered. So if you want to only look at cases, you can then also click on the case tab. (See below in blue). Also note, along with the case tab, the commentary tab might be useful to read about what people are saying about the case. You can also YouTube videos on how to read case briefs. The facts of the case will always be at the beginning and the decisions always at the end.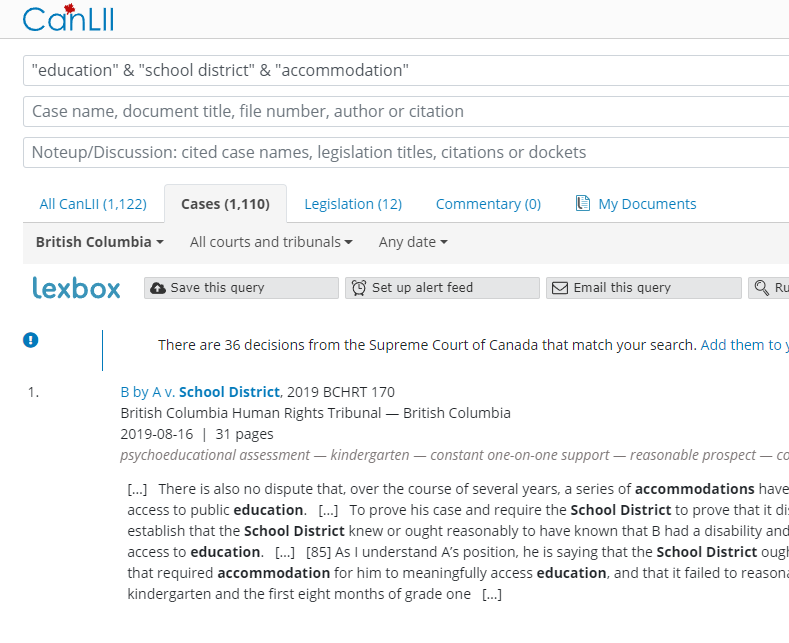 Legal dictionaries can purchased for under $30.oo and it may assist you in reading and understanding the cases.
Reading and understanding law and your rights can be a powerful tool in advocacy. You've got this!