In the Human Rights Code section (8), there is the Duty to Accommodate.

There are also layers under the umbrella duty to accommodate. There is a process that must be completed in order to obtain those accommodations. Since, this site is focused on disability rights and education focused, for this page I will be using disability as the example. First, the service provider must have proof that someone is disabled.
From the Human Rights Clinic Blog, Stress, Anxiety and the Duty to Accommodate, they explain…
"However, she did not provide any medical information that said she had a mental disability.
The Tribunal dismissed Ms. Matheson's complaint, stating that "an essential element of a complaint of discrimination in employment on the basis of mental disability is proof that the complainant either had a mental disability… or was perceived to be mentally disabled by the employer."
Here is Ms. Matheson's case.
Which now leads us to the Duty to Inquire
Duty to Inquire

Here is link to more information and the above picture.
Duty to Consult
A great cases that outlines the duties to consult by schools is the Hewko v. B.C., 2006 BCSC 1638 (CanLII)
There are many great details in this case, here are a couple that speak to me regarding the duty to consult.
AND also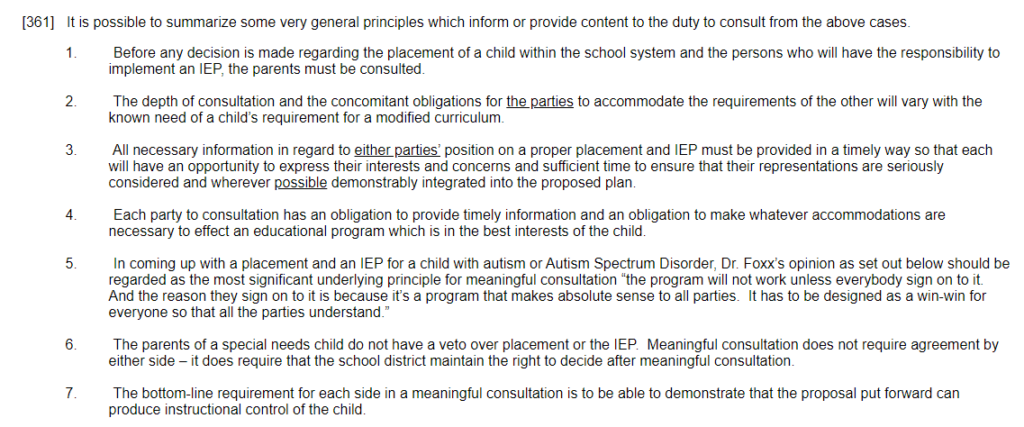 Duty to Co-operate
Here is the link for the source below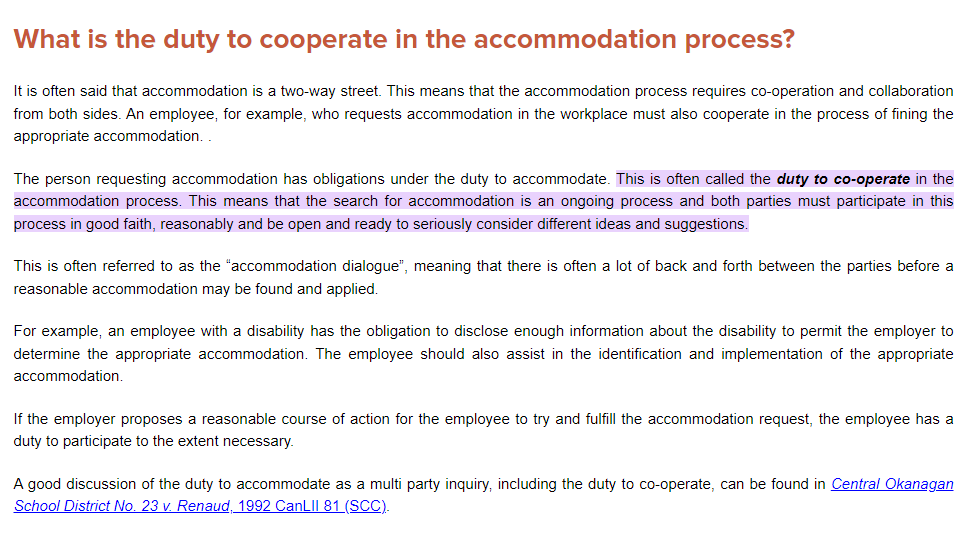 Duty to Facilitate Implementation
We (as parents/guardians) have a "Duty to facilitate implementation" under the duty to cooperate. See below for a case law example.
257] I find that the respondent took reasonable steps to deal with Grayson's dysregulation in a timely manner and that the Loop of School plan was part of this. Further, I find that the Loop of School plan was a reasonable accommodation.
[258] The only person who did not agree with the plan was Ms. Kahn. Her reasons for disagreeing at the time appeared to relate to the fact that Grayson's time at school would be too short before she would be required to pick him up. However, since the plan depended on starting Grayson out successfully in short but increasing increments, and the plan was supported by all involved in developing it, including Ms. Kahn's private BCBA and her contact at Kerry's Place, I find that there was no reasonable basis for Ms. Kahn's rejection of the Loop of School plan.
[259] An applicant, who in this case is represented by his mother, has an obligation to co-operate in accommodation process, which includes a "duty to facilitate the implementation" of a proposal for accommodation that is reasonable. See Central Okanagan School District No. 23 v. Renaud, 1992 CanLII 81 (SCC) (Renaud); YB v. Conseil des ecoles publiques de l'Est de L'Ontario, 2017 HRTO 492; Fisher v. York University, 2011 HRTO 1229 ("Fisher").
[260] In rejecting the Loop of School plan, Ms. Kahn failed in her obligation to co-operate in the accommodation process. In so finding, I note that parents do not have the right to dictate the accommodations which their children will be provided with to access education. While parents do have the right to provide input as part of the accommodation process – which Ms. Kahn did in this case – they must accept reasonable accommodations offered by the school board. See UM v. York Region District School Board, 2017 HRTO 1718; Fisher.
To read the whole decision click Kahn v. Upper Grand District School Board, 2019 HRTO 1137 (CanLII)